Mount Rainier- Copyright 2014
To paint a mountain as iconic as Mount Rainier, I abstracted the landscape and added silver leaf to make the image shine. Now, like the mountain itself, the painting changes colors in different light.
Private Collection
The Tulip Fields- Copyright 2016
There's a spiritual feeling when you stand among thousands of tulips.
Private Collection Seattle, Washington
The Ferry to Bainbridge- Copyright 2016
Oil and silver leaf on canvas, 36 x 24"
The Washington State operates the fourth largest ferry system in the world. Here, the ferry carries passengers and cars from Bainbridge Island to Seattle.
Seattle Skyline- Copyright 2015
The reflective silver light on Seattle's skyscrapers defines this cityscape. That, and Mount Rainier hovering in the clouds. There is a saying in the Northwest- "The mountain is out." In this painting, the mountain is always out!
Private Collection
The First People- Copyright 2016
Oil, silver and gold leaf on canvas, 18"x 24"
I was inspired to add a tear to my northwest totems after the demonstrations at Standing Rock. After all, these are our First People.
The Logging Truck: A Tribute to Emily Carr- Copyright 2014
Oil and silver leaf on canvas, 24"x30"
Emily Carr's love of the environment inspired me to paint this composition. In the background, three trees escape being clear cut. They are encircled by a radiating light from the sky. The truck is filled with logs but has stopped at a crossroad. This painting is my tribute to Emily Carr and to the beautiful northwest forests.

Northwest Cedar- Copyright 2015
Oil, Silver Leaf, Gold Leaf on Canvas- 60" x 20"
This large cedar is part of a new "tree-hugging" series to include some of the beautiful trees found in the Northwest forests.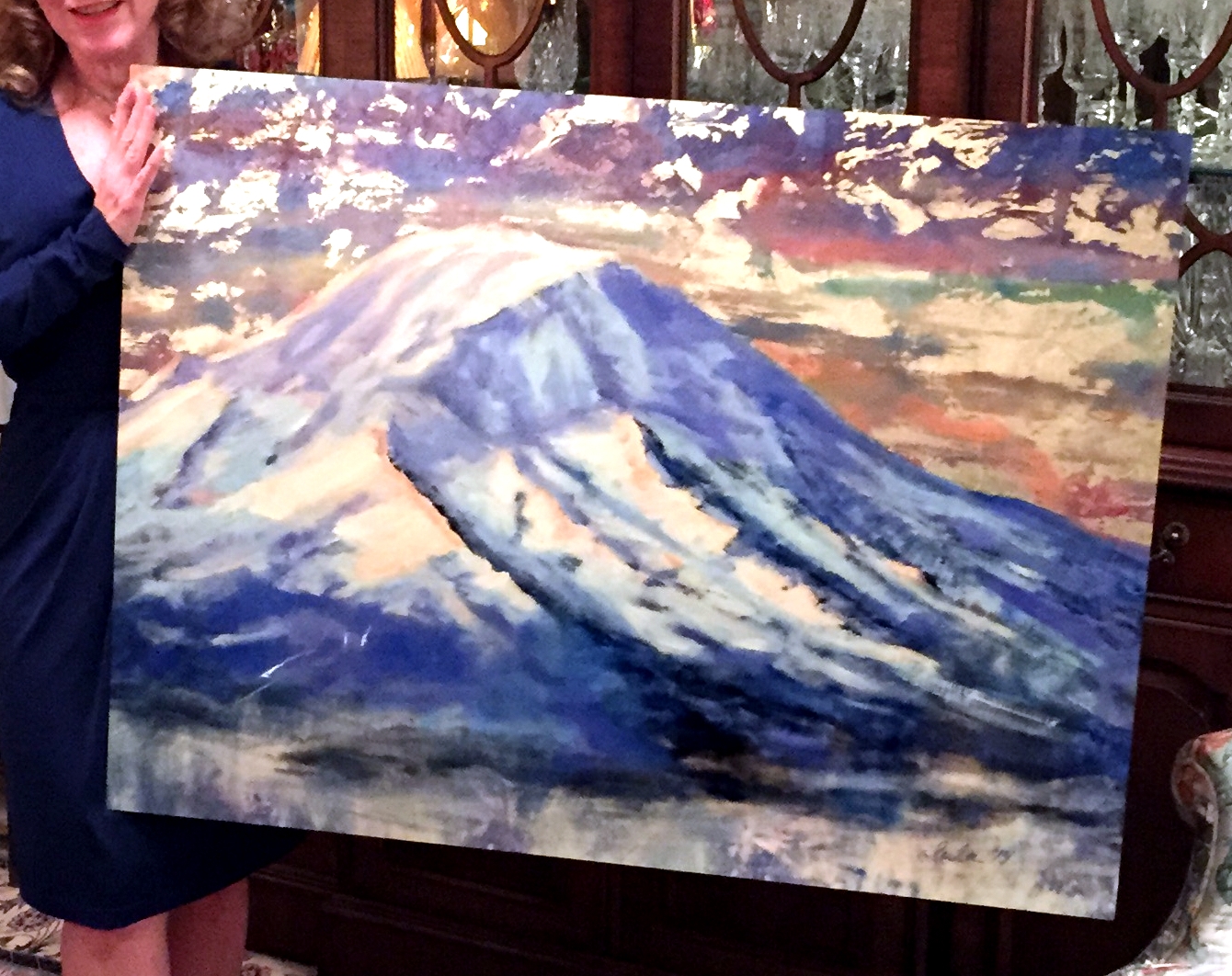 Reproductions on Aluminum
Tula's original art can be reproduced on light weight aluminum and requires no framing. Reproductions are available in a matte or glossy finish, and in custom sizes. Inquire for details.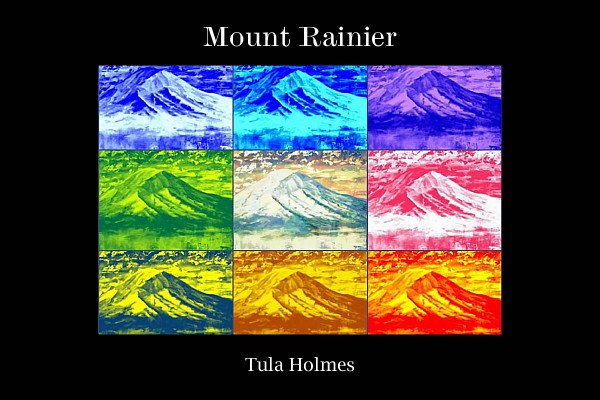 20"x30" Mount Rainier Collage Poster
In the northwest, locals say, "The mountain is out." With this Mount Rainier collage poster, the mountain is alway out. Inquire for pricing.
Mount Rainier- Copyright 2014
"We love our reproduction of Mount Rainier. The colors on aluminum are exquisite, and the mountain changes on the wall, just like it does in real life. At times it seems darker, and at other times, it glows. This painting completes our room. We feel privileged to own Tula's art."
Debbie Bianco and Tom Snyder
Seattle, Washington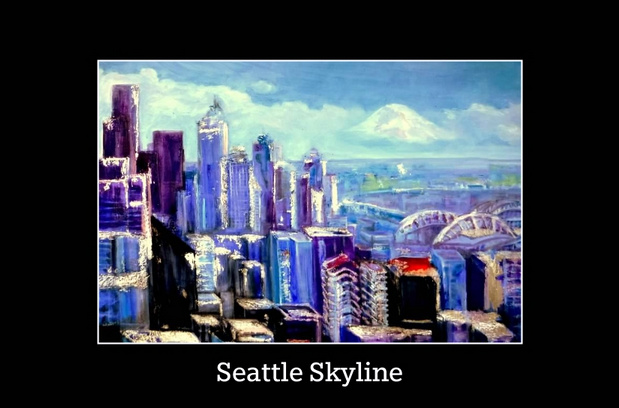 Seattle Skyline Poster- Copyright 2015
This 20" x 30" poster is a perfect inexpensive way to jazz up your den or dorm room. I will sign them for you. Only $49 plus shipping!
Mount Rainier Poster- Copyright 2014
These new 20" x 30" posters of Mount Rainier are available framed or unframed. It's an affordable gift of art. Inquire for pricing.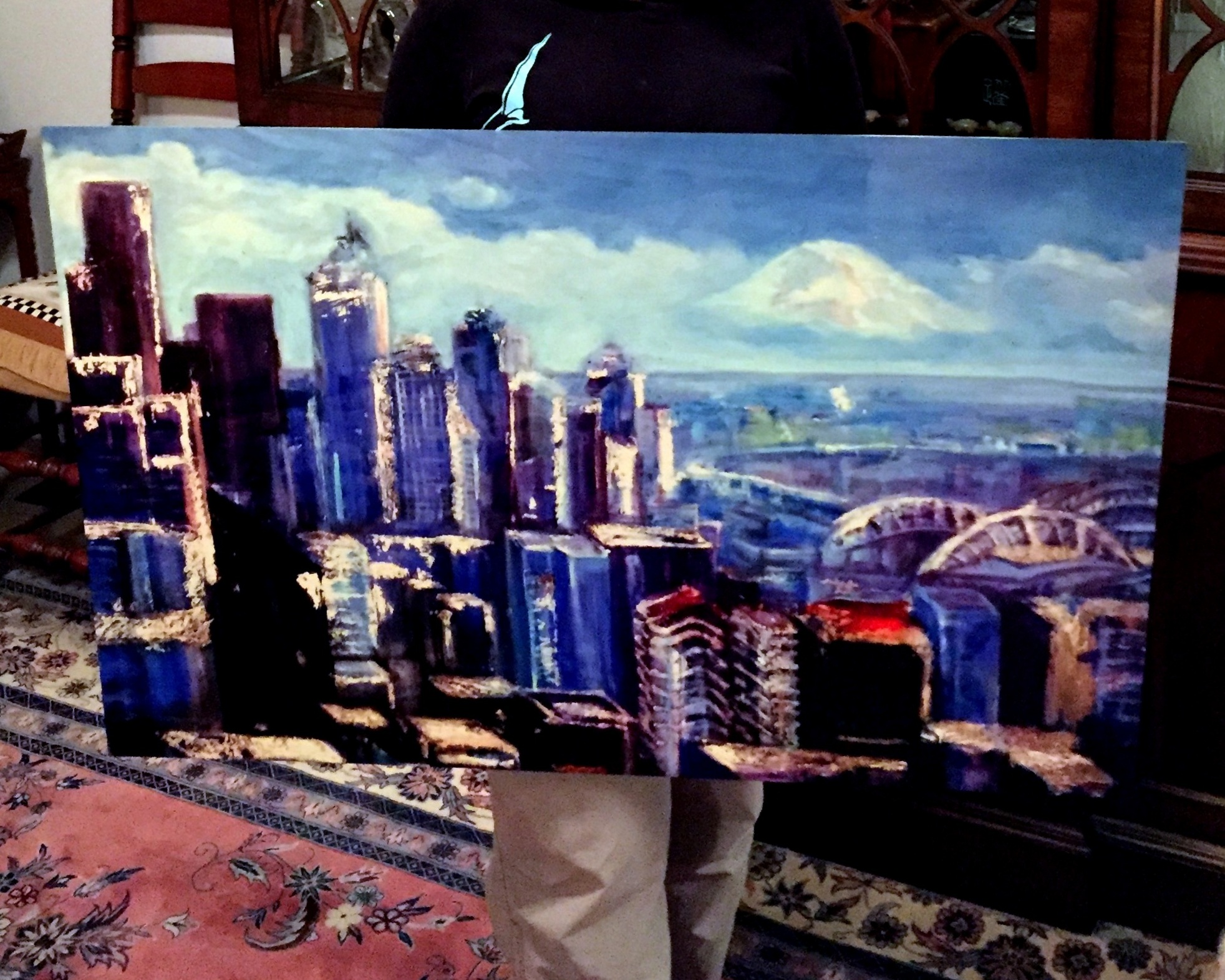 Seattle Skyline- Copyright 2015
Aluminum reprints are light weight, affordable, available in many sizes and a beautiful way to own art for your home or office. Email for pricing.