The Hospital in Arles: Homage to Vincent- Copyright 2018
Oil on canvas, 16" x 20"
An homage to Vincent in his style- the irises, the hospital, his self portrait. The hospital pool forms a halo above Vincent's head. Thank you Vincent!
The Plane Trees of Provence- Copyright 2018
Oil on canvas, 16" x 20"
The beautiful drive into Saint-Rémy-de-Provence.
Opua, New Zealand- Copyright 2017
Oil on canvas, 28" x 22"
Private Collection
Prickly Pear- Copyright 2017
Oil, Silver leaf, nails on panel, 16" x 12"
With nails piercing through the panel, this is one piece where you don't need to be reminded to not touch the art!
Summer Koi- Copyright 2016
The bright Koi, the deep blue of the pond, the white waterlily and the motion of water create a bold summer symphony in paint on canvas.
Private Collection Bellevue, Washington
The Lily Pond- Copyright 2017
Oil on canvas, 28" x 22"
There is nothing more peaceful than a lily pond with still deep blue water.
The Shop in San Miguel- Copyright 2017
Gold leaf and oil on canvas, 28" x 22"
I fell in love with San Miguel de Allende. This shop is on San Francisco Street near the Galeria San Francisco. My painting celebrates my love for Mexico.
Manhattan- Copyright 2013
"Tula has captured the magic of Manhattan by night, that glittering multicolored skyline that gives me a thrill every time I drive back into town."

Gill Kitley United Nations New York, NY
Palm Springs- Copyright 2007
Oil on linen panel, 11 1/2"x15 1/2"
In this painting, the beautiful date palm stands tall like a sculpture rising out of what little water is found in the desert.
Not this Thanksgiving- Copyright 2009
Two turkeys look on as a third struts away from the group. An axe lies on the ground. The turkey who walks away will escape the axe and not be eaten for Thanksgiving dinner!
Private collection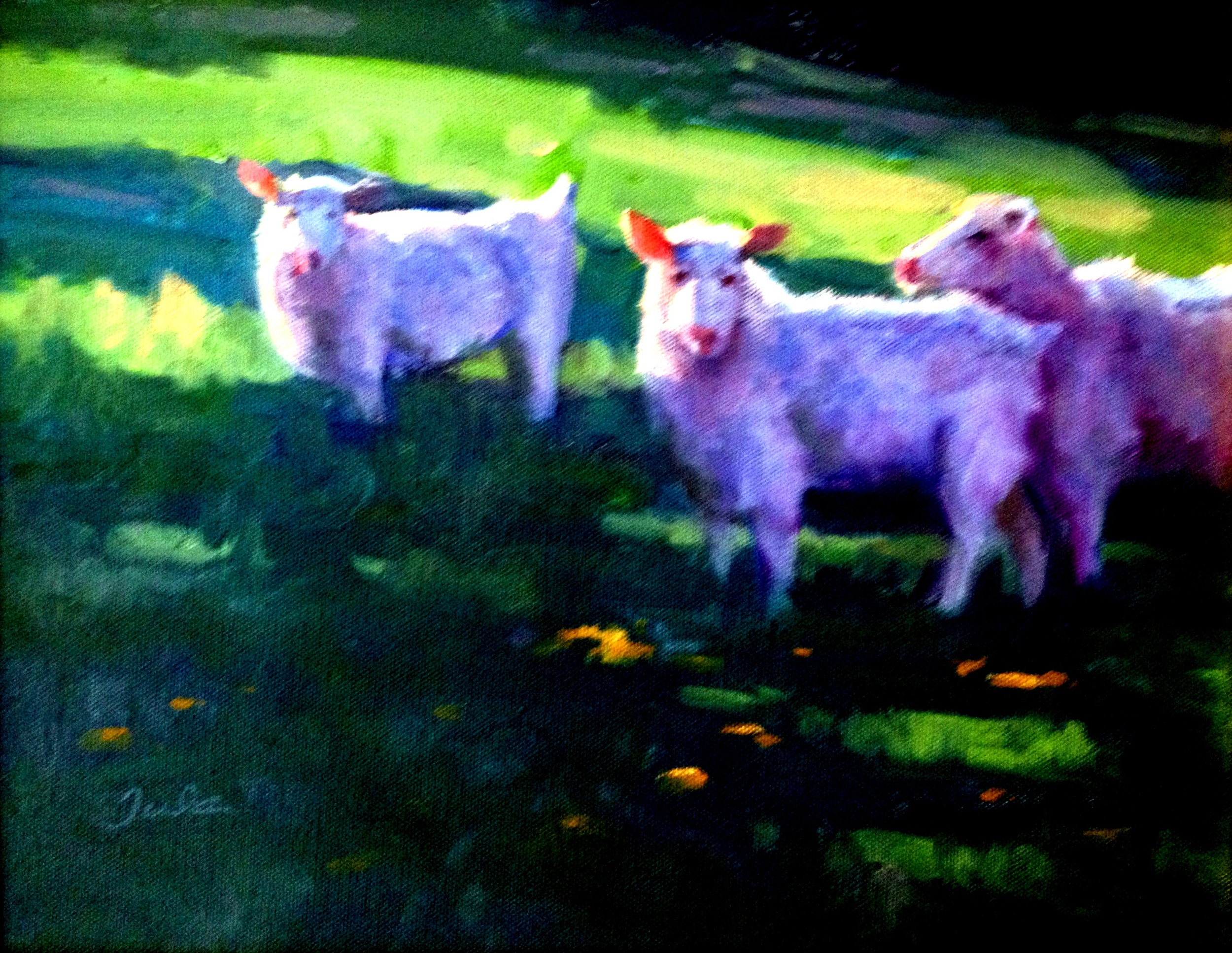 Easter Sheep- Copyright 2009
Oil on canvas, 12"x14"
This painting is part of a holiday series. The lamb and the number three are a well known Christian symbols. In this composition, two sheep stare at the viewer and the other leans in to be close.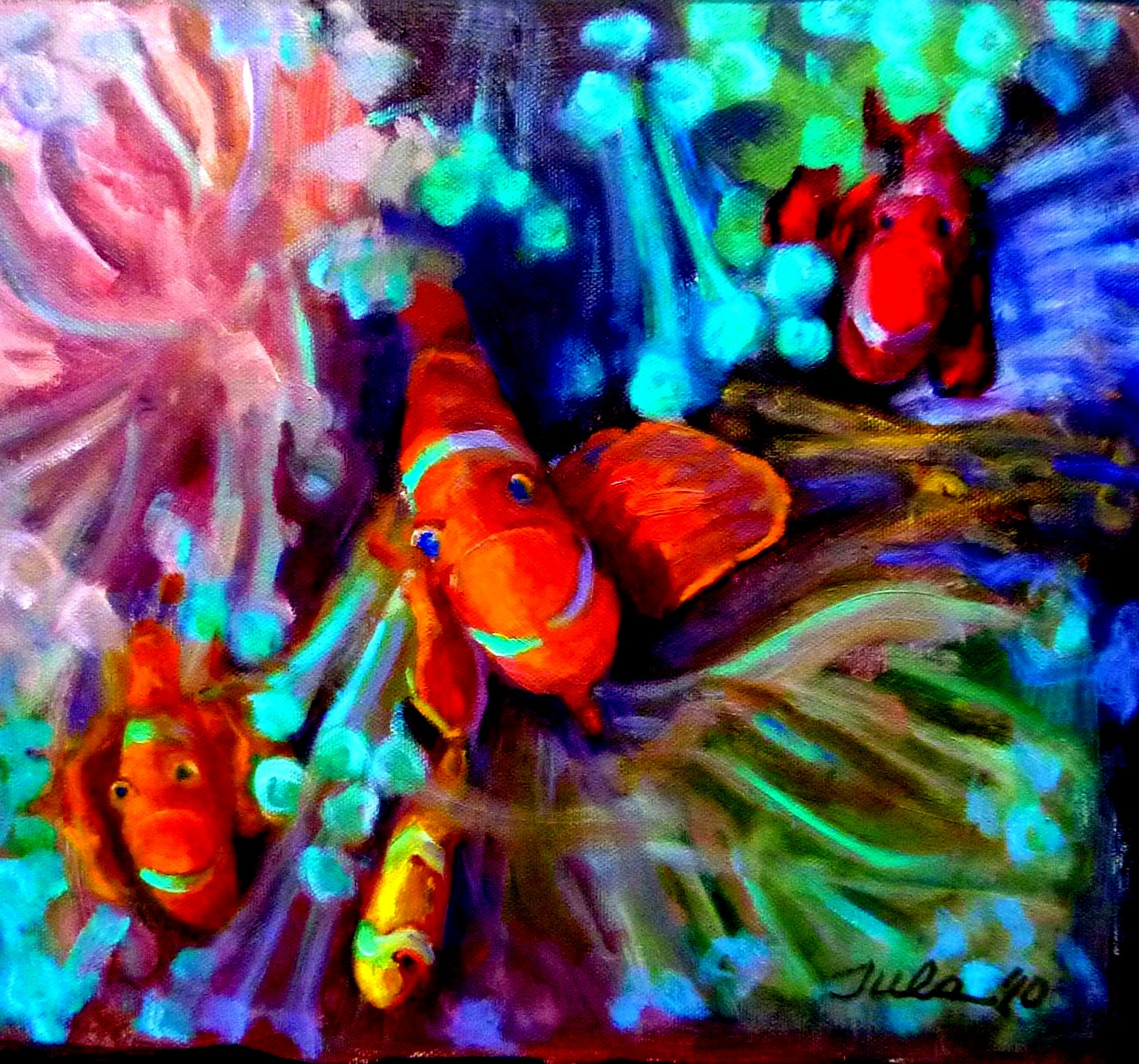 False Clown Fish- Copyright 2010
"As a diver , I am very partial to this underwater painting. My favorite place to dive is Raja Ampat in Indonesia where the false clown fish are found. They swim just above the coral and dive into it when threatened. The painting is authentic and wonderful!"
Nikki Mahan Bellevue, WA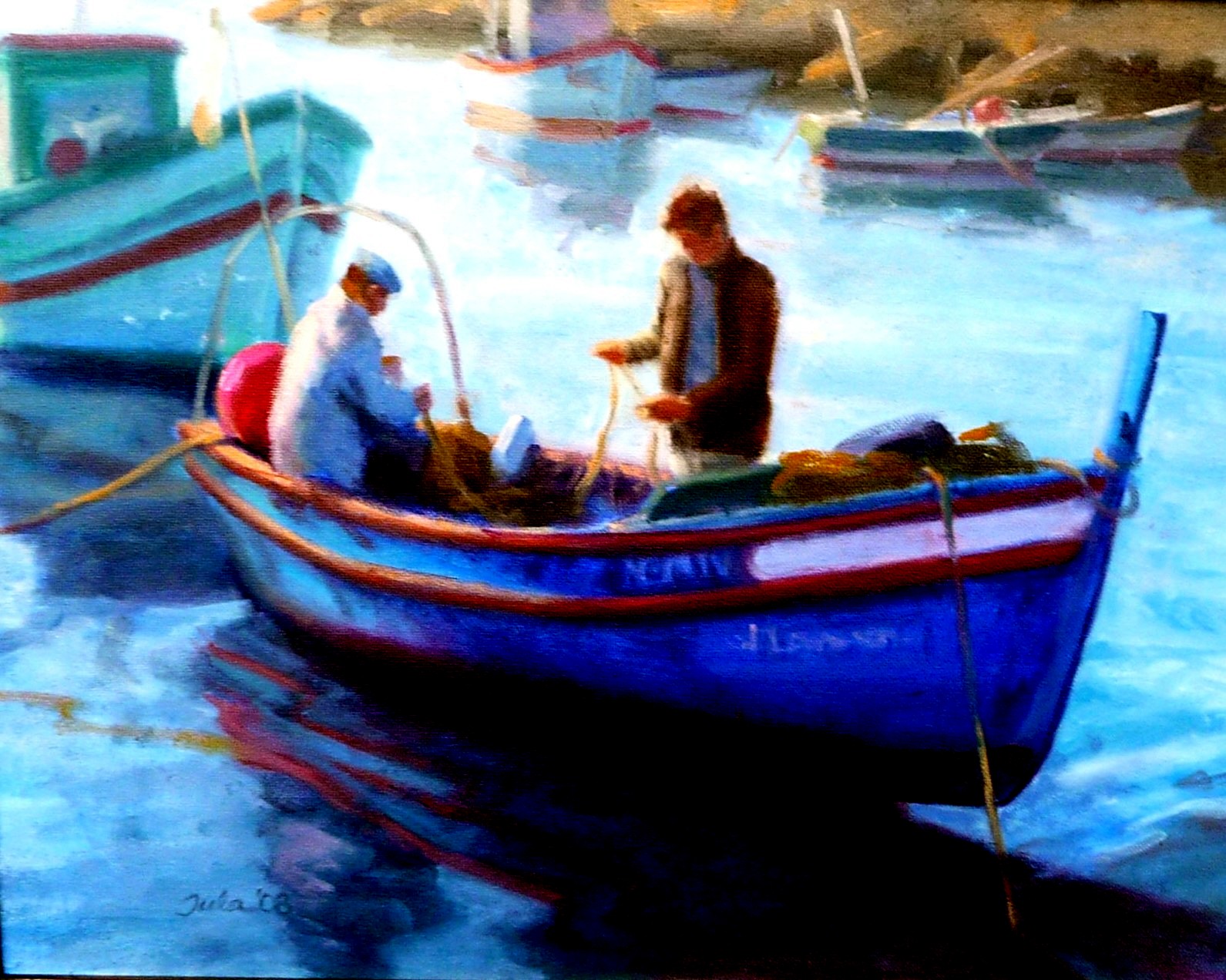 Home from Fishing- Copyright 2008
"Tula is a talented painter. I own two of her paintings. Home from Fishing hangs in my law firm and receives frequent praise. I love it."

Janet George Seattle, Washington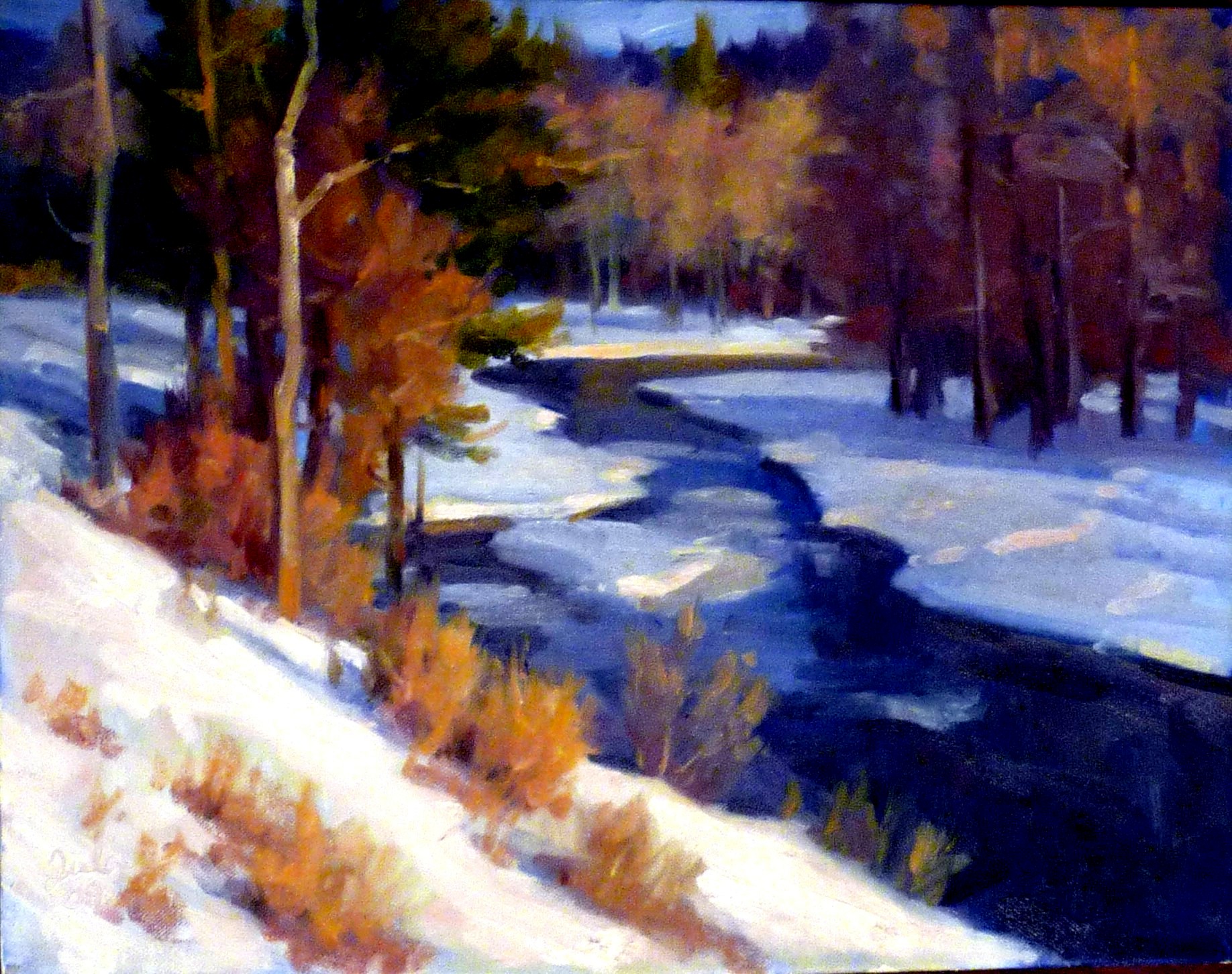 Northwest Winter- Copyright 2009
I love to snowshoe. This painting recalls the peace of walking through the northwest forests in the winter.
Private collection
Montana Plein Air- Copyright 2007
Oil on canvas, 11"x14"
Plein air painting is a wonderful way to be one with the landscape. This was painted on a trip to Glacier National Park.
Kathy's Boats- Copyright 2008
"Kathy's Boats brings me to the perfect summer sunset while boating. I was planning on taking this painting to my summer beach cabin, but I can't. I need to be with it year round! So it remains in my home in Bellevue."
Kathy Dye Dye Management Group, Inc. Bellevue, WA
Seattle Plein Air- Copyright 2007
Oil on linen panel, 10"x12"
There is never a lack of subject matter in Seattle. These boats were painted along the Seattle waterfront.
Northwest Winter 2- Copyright 2009
Oil on canvas, 18"x24"
I enjoy painting the quiet of a snowy day in the Cascade Mountains.
Plein Air Painting at Lake O'Hara, BC- Copyright 2007
Oil on Linen Panel, 12" x 10"
Plein Air Painting with the Plein Air Master in BC, Canada
Summer Koi Posters- Copyright 2016
Large 20" x 30"posters can be made from any of my paintings. Posters are printed on heavy, glossy paper and can be purchased framed or unframed. Email for details.